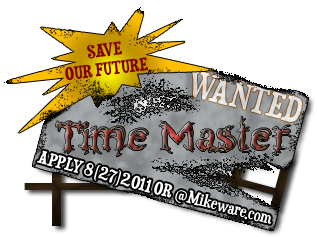 Have you been playing No Time To Explain?
If so, you might have noticed the image on the left.
It's a call to try out my new card game. I'll be having (a) play test beta session(s) on Saturday at PAX in Seattle. Feel free to come find me. I'll be where ever the free play board/card games are, and I'll probably post something here again too.
More details to come in the future!
Figure I should switch over to the new format. Still haven't had a chance to convert everything over to the new format.
You can still see our latest projects here.
If you'd like to visit the old site, please click here.
Been pretty busy at my day job lately and sprucing up our home. One of these days, I'll get around to doing this full-time. In the meantime, hopefully you can live with infrequent but meaningful updates.