Michael A. Hawker and Brett Wortzman presented this talk at PAXDev 2014 about how non-educational games can have educational value in the classroom.  Synopsis:
In the early nineties, traditional educational games such as Where in the World Is Carmen Sandiego and Oregon Trail pioneered the way for learning to be fun (and taught us that you can only carry 200 pounds of meat back to your wagon). Since then, the educational games market has not borne the same success as today's major game franchises. However, it is possible for 'traditional' games not specifically designed to be educational to have curricular value. We will show how we have used a wide range of games and game concepts to provide a familiar context for students to engage with new material and principles of Computer Science.  In addition, we will discuss how game professionals can find a place for their games in the classroom.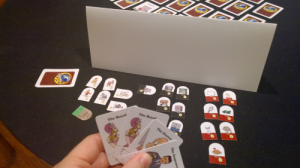 Today, we released our latest game 'Afoot: Sins of the Flesh' on the Game Crafter.
Afoot is a two to four player mystery memory game that can be played in 20-30 minutes. It adds strategic components to the traditional game of Memory as well as the deductive reasoning and logic of solving a murder mystery from Clue (without having to run around a mansion). The pace of play is quick and keeps everyone engaged as paying attention at all times is important while you try to solve the mystery and earn points.
We're excited to release this one and hope you'll track us down at PAX to give it a try!