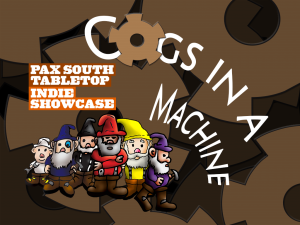 "Cogs in a Machine" is a game we've been working on for a while.  It's a dice game for 2-6 players:
The machine is broken! You and your band of fellow gnomes are trying to fix it by putting cogs back in the machine. However, being the greedy gnomes that you are, you figure no one will mind if you take some valuable cogs for yourself once there are a few in there…
Break the machine over and over again as you try to steal and amass cogs the quickest by rolling dice and thwarting your opponent's attempts at their own success.
It was selected to be showcased along with 7 other games at PAX South on January 23-25, 2015.  If you're there, be sure to stop by our booth and try it out!  You can see the rest of the PAX games showcased here.
Be sure to follow us on Twitter or check back here for more info over the next few weeks.